Presidents Message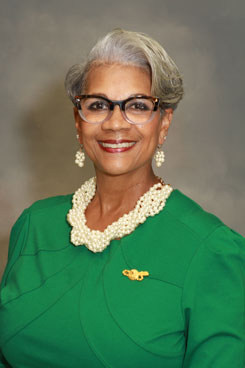 Greetings and Welcome to the website of The Gateway (IL) Chapter of The Links, Incorporated.
The Links, Incorporated is an international organization consisting of more than 17,000 women committed to friendship and service. The Gateway (IL) Chapter is one of two hundred ninety-nine (299) chapters located in forty-one (41) states, the District of Columbia and the Commonwealth of the Bahamas and the United Kingdom.
For over thirty-six (36) years, the distinguished members of the Gateway (IL) Chapter have provided programming which we believe has and will continue to benefit and impact the bi-state area of Metro Illinois and St. Louis, Missouri. Currently, we have forty-eight (48) dynamic women who tirelessly provide their time and talent to support the community.
We are glad you have stopped to view our website. We are happy to share information about our programs, and other important links so that you can get to know us. Perhaps, you will partner with us as we strive to create and maintain sustainable programs for the bi-state communities in Metro Illinois and St. Louis, Missouri.
Yours in friendship,
Stacy Edwards
Stacy Edwards
President
FRIENDSHIP AND PURPOSEFUL SERVICE
The Gateway (IL) Chapter of the Links, Incorporated is committed both individually and collectively to education, civic and intercultural activities for the benefit of the larger community. Facets focused on The Arts, Services to Youth, Health and Human Services and National Trends and Services and International Trends and Services provide cultural enrichment in communities across this nation and abroad, to address issues and concerns that impact on the quality of life, and to render assistance to global friends, especially those in African and Caribbean countries.
The Gateway (IL) Chapter is a trendsetter and has provided sustainable programs that include: "Art Through the Ages"; "Magical Moments: A Spotlight on Youth"; the Dr. Lillian Adams Parks Scholarship and the Dr. Thelma V. Cook Institute at HSSU Harris Stowe State University the HBCU in St. Louis, Missouri. Additional events include: KFUO Classic 99 Radio's "Young Heroes in Music"; Salute to Women in the Military/Sheroes; 'AMERICA I AM'' and 'The Little Black Dress' Exhibitions in observance of The Chapter's 25th and 30th anniversaries, respectively; 'Connecting Links Lead The Way' Mentorship, Breast Cancer Awareness Tea, 'OPERA Tasting – Opera Theatre of Saint Louis and a Youth Political Forum. Internationally, The Chapter has participated in the national organization's "Black Dolls to Africa" and Dental Mission in Haiti programs. On a local level, the Gateway (IL) Chapter partnered with Archway and the St. Louis chapters, including Walk-a-thons, Friendship Day, 'Their Eyes Speak', and Human Trafficking!
The Gateway (IL) Chapter of The Links, Incorporated is recognized locally, regionally, and nationally for its excellent programming. The chapter is featured in the 2021 and 2019 Best Practices Book for the Central Area of the Links, Incorporated.
Sponsors & Community Partners